Reunion Headquarters Hotel
Country Cascades Hotel
204 Sharon Drive
Pigeon Forge, Tenn. 37863
United States

Country Cascades Hotel sits behind the Pigeon Forge TGI Fridays,
between stoplights #3 and #4.
Group members please call 1-800-523-3919
to make hotel reservations.

Group members will be asked for their first night's stay when making their reservations and be sure to tell them you are a member of the 114th Aviation Group. If an attendee wishes not to attend one of the events. They should notify SMR (Smokey Mountain Resorts) when making their reservation.
$69.00 per room per night plus tax including a Continental Breakfast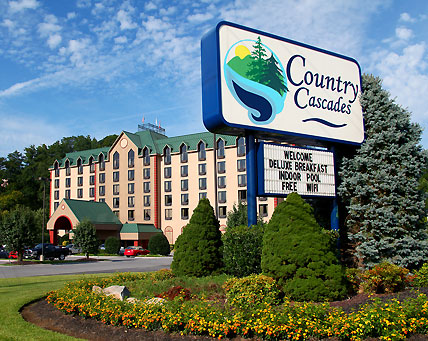 Main Entrance



KOA/RV Parking Area:
Pigeon Forge's KOA Kampground is one of 17 campgrounds located within Pigeon Forge.

Check Air Fare Costs: McGhee Tyson Airport is served by American, Delta, Frontier,
United, Allegiant Airlines & US Airways.

Other Pigeon Forge Facts: Pigeon Forge "Celebrate Freedom" event during the month of August honors those serving in active military, reservists, veterans, police officers and firefighters by providing discounts at participating business all over town. In addition, the "Welcome Home Vietnam" parade draws hundreds of veterans to march in

the parade down the Parkway.

Knoxville's McGhee Tyson Airport (TYS)
is the closest commercial airport – located 35 miles from Pigeon Forge – taxi, car rentals available.



Rocky Top Tours Will provide service between the McGhee Tyson Airport in Knoxville, TN

and Pigeon Forge:

All airport shuttles are done by advance reservation only. We do try to group passengers together with others that may be arriving/departing on the same date around the same time.

If you would like to make a reservation or if you have any questions please contact:

Linda Hall @ 1-865-429-8687
Airport Shuttles
All airport shuttles are done by advance reservation only. We do try to group passengers together with others that may be arriving/departing on the same date around the same time.

Airport Shuttle pricing is as follows:
1 person - $70.00 each way
2 people on the same shuttle - $35.00 per person each way
3 people on the same shuttle - $25.00 per person each way
4 or more on the same shuttle - $20.00 per person- each way

When making airport shuttle reservations passengers will need to mention the name of the group there are associated with. 114th Aviation Company Reunion. If you would like to make a reservation or if you have any questions please contact:

Linda Hall @ 1-865-429-8687

Important: Directions are for information purposes only. While we hope to provide the best mapping information for the hotel, some mapping details may not be as accurate as we would like. Please contact hotel directly to obtain the most current and complete location information and driving directions.

Think Ahead for the Reunion
Hassle-Free Deals on Car Rentals
If you plan to use a car when attending the 2015 Reunion, thinking ahead at this time will save you some dollars. We recommended that you have a vehicle to get around.
Here are a few other hints to consider:
If you don't find anything to suit your budget with the major car rental companies, you may want to try a consolidator. Car rental consolidators work much like those for airlines and hotels. They rent cars for major car rental companies but at a discount price. The down side is that the majority of them make reservations only through the Internet.
Here are some others to try:
CheapCarRental also claims to have prices 30 percent lower than the rates of major car rental companies. They rent vehicles worldwide, including some vehicles you would not expect to see. Their selection includes cars, vans, limousines, heavy trucks, all terrain vehicles, and luxury cars. They can be reached at www.CheapCarRental.com
KAYAK.com/RentalCars has its website set up so you can compare prices of all rental companies before making your reservation. They can be reached at www.KAYAK.com/RentalCars

Hertz Car Rentals provides discount car rentals throughout the world. You can pick the class and type of car you would like and location where you would like to pick it up. Check them out at https://www.hertz.com/rentacar/reservation/

There will be ample methods of travel while at the reunion. However, should you choose to travel a little out of the area, then maybe you will need the rental car. Good Luck!

Flying to the Reunion? How To Find The Cheapest Flights
Many members that have pre-registered for the 2015 reunion have indicated that they intended to arrive by air. Flying obviously is the fastest way to travel but also one of the most expensive. It doesn't have to cost you an arm and a leg though. Airline consolidators specialize in selling discounted fares for major airlines, and you can save a bundle by using their services. Consolidators either buy airline tickets in bulk or have a special agreement with airlines to receive discounted tickets. In the past, consolidators only made their tickets available to travel agents, but many now offer tickets to the general public.
Here are a few you may want to try:
OneTravel sells discounted are tickets, hotel rooms, cruises, and vacation packages. Contact 800-929-2523 or www.OneTravel.com
l 800 Fly Cheap offers discounts on advance-purchase tickets.
Call 1-800-FLY-CHEAP.
CheapTickets Inc. specializes in selling discount tickets for travel within the United States. Contact 800-672-4327 or www.CheapTickets.com
SkyAuction auctions airline tickets, as well as hotel rooms and vacation packages, over the Internet. Check www.SkyAuction.com
And for you adventurous types, PriceLine.com allows you to set your own ticket price and take the chance they can find it for you. You have to be flexible enough to travel at any time on the dates you choose, and you must pay in advance by credit card. The ticket is non-refundable, so once your offer is accepted, there's no turning back. Check with www.PriceLine.com for more information.

Try one or more of the above ideas and tell your "war story" at the reunion.



| Welcome | Accommodations | Travel | Registration | Itinerary |
| Area Sites | Nominating Ballot | Attendees | Reunion Photos | Reunion Recap |