MARVIN FOSTER PHILLIPS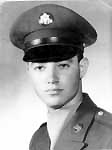 SP4 - Army - Regular
20 year old Single, Caucasian, Male
Born on Jun 30, 1946
From Grundy County, TENNESSEE
Length of service 2 years.
His tour of duty began on Unknown
Casualty was on Sep 26, 1965
in SOUTH VIETNAM
Hostile, died while missing
HELICOPTER - CREW
AIR LOSS, CRASH ON LAND
Body was not recovered
Religion
CHURCH OF CHRIST
Panel 11E - - Line 20

SP4 Marvin Phillips, KIA 26 Sep 65, is finally returning home to Manchester, TN.
He will be buried on the 45th anniversary of his death.



Special Request:
Photo's are needed of our Killed in Action.
If you have a photo of any of them in Military Dress uniform,
please contact the Association