The 114th Aviation Company Association had it's beginning in Fort Rucker, Alabama in Late 1989 at a mini reunion of a small number of people. A concerted effort was initiated to find former members of the unit and 18 months later, in June 1991, a reunion was held in Enterprise, Alabama.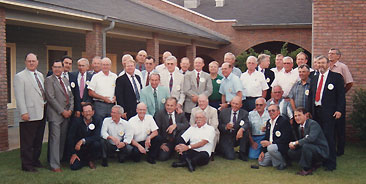 1st Reunion Attendees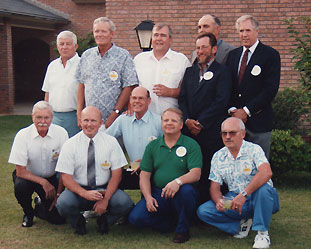 1964-65 Cobra Platoon Attendees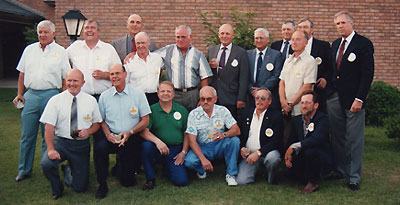 Harold Bennett, Bailey Jones, Richard Fortenberry, Paul Young III
Ed Owens, Lane Ramsdell, John Brown, Frank Mayer, George O'Grady, Bill Burton, Robin Miller
Davies ?, Pete Kendrick, Robert Davis, Harold Simpson, Mike Schrumpf, George Kokendoffer

110 former members and their families were found and attended the reunion. A short business meeting was held after the banquet on Saturday night and it was unanimously agreed to:
Form an association and call that association "The 114th Aviation Company Association."
Charge annual dues with the initial dues set at $20.00 per year.
Hold reunions every other year beginning in 1991. Reunion sites to rotate to a new location for each event.
Publish a quarterly newsletter.
Publish an annual Membership Directory.
Continue the search for new members.
Conduct research and gather materials to write an accurate and readable history of the 114th Aviation Company.
We refer to "former members of units that historically supported the 114th as being eligible for membership in the Association. Those units are 544th Maintenance Detachment (CHFM); 590th TAMC; 96th Signal Detachment; 83rd Medical Detachment; 25th Infantry Division, Door Gunner Platoons (Shotgun); 560th Military Police (Door Gunners and Security Police); 73rd Reconnaissance Airplane Company (RAC); Detachment 11, 30th Weather Squadron, USAF; 23rd Quartermaster Detachment; 173rd Support Battalion (Detachment); and 232nd Signal Detachment.
Did you know that the 114th was on YouTube? Sure is check it out.