Many of you have asked about our Unit History Book. Now that we have it actually in hand, I want to describe it fully for you and let you know how to obtain a copy or additional copies for yourself.
The quality of the book is truly first-rate! It is approximately 9x12 in size, contains almost 450 pages with 16 pages of color pictures and black and white pictures interspersed liberally throughout the narrative.
It is hardcover with a very nice slipcover, while the interior pages are printed on 70# weight paper. All in all a very handsome book anyone should be proud to have in their personal library.
The cost of the book is $35 per book plus $8 shipping although if ordering five or more books, the cost per book drops to $30 each plus $2 shipping per book.
There is also the cookbook "Knights and Their Ladies in the Kitchen", a loose leaf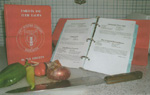 binder with an easel design that allows for easy viewing while following recipes provided by Knights and their Ladies. The cost is $12 plus $3 shipping.
Both books may be ordered from our Quartermaster. Make your check payable to 114th Aviation Company Association and send it to:
Jeff Carr
P.O. Box 447
Gig Harbor, WA. 98335
(888) 665-4149
Email: QuarterMaster
Here is a Special sneak pre-view of some of the pages in our history book.