Soft & Comfortable Proudly Display Your Association
Description: T-Shirt with the full color 114th Aviation Company Association silk screened over the left breast.
- No imprint on the back.
- 50% Polyester & 50% Cotton.
- Available in sizes: Large, Extra Large and Extra Extra Large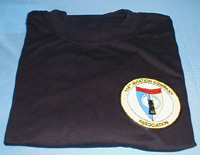 Color: At this time, only black is in stock.
Cost: $20.00 each for Sizes Large and Extra Large
$25.00 each for Size Extra-Extra Large

Shipping & Handling:
Cost is $5.00 for the first shirt. Add $2.00 for each additional shirt.
US Postal Service, First Class, $7.
Add $1.00 for each additional T-Shirt.
US Postal Service, Media Mail, shipped within the United States Puerto Rico and Guam only. Guaranteed Delivery in 4 weeks.
US Postal Service, Priority Delivery 2 Days, Minimum $15.00, rates quoted by the USPS depend on distance and regions of the country. Overseas postage is quoted on an individual basis.