114th Aviation Company
"Knights of the Air"

The Knight Newsletter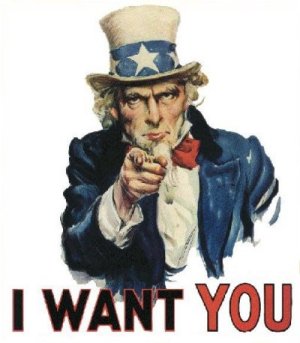 That poster told the story so many years ago and that story is being retold here. "I Want You" is as important today to us as when the statement was first used. We, the members of the Association, make the Association what it is and have within us so much information that needs to be remembered and shared. The newsletter has been, and will continue to be, the forum for each member to relate to one another.

The call is being made "We Want You" to think of just one small bit of your tour in the 114th and share it with all of us. Give it in full story format or in just facts. The newsletter editing staff will take your facts and create the story.

Wives are also encouraged to submit articles. There are many stories that you can tell of those moments while you and your loved one were separated. Tell us your story, quip, humor item, moments of fear (and there were many fears of the unknown) or just your feelings of those days that occurred but a few years ago.

Get the whole family involved...

| Unit History | Assoc History | Assoc Members | Lost in Combat | Lost in Combat by Date |
| KIA Memorial | "Taps" | Alumni Directory | Membership Application | Quarter Master Shop |
| Pilots KIA Vietnam | Chopper Restoration | Sign our Guestbook! | Read our Guestbook! | VA Benefits |
| Veterans Links | Unit Photo Album | Unit History Book | Unit Aircraft | Show Your Colors |
| Aircrew KIA Vietnam | Website Awards | The Archive | Director's Forum | Auxiliary | Reunion Information |
| 114th Constitution & Bylaws | Our Vietnam Generation | AOD | Knight Letter | Home |

Created by Terry A. Dell, White Knight Crewchief 69-70' Republic of Vietnam
in association with members of the 114th Assault Helicopter Company
who served May 1963 to February 1972.

Send mail to Webmaster with questions or comments about this web site.
Copyright © 1997-2017 114th Aviation Company Association