114th Aviation Company
"Knights of the Air"
PHOTOGRAPH ALBUM
Please be patient while the photo's load!
It may take a minute or so depending on how fast your computer modem works!
---
Vinh Long Airfield
Photo Courtesy of George Young
Photo Courtesy of Roger Winslow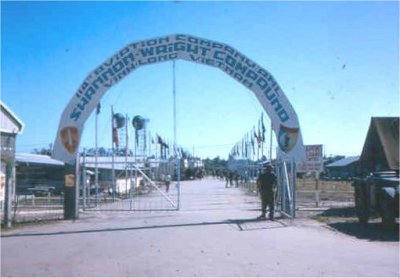 1964 Vinh Long entrance, note flag poles in place with some flags, summer 1964 prior to 62nd arrival.
Photo's Courtesy of Richard Sciapiti
| | |
| --- | --- |
| Vinh Long Front Gate July 1968 | Vinh Long Front Gate December 1968 |
Photo Courtesy of Steve Stibbens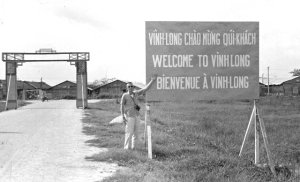 Vinh Long Front Gate
Who is this guy and what year is this?
Photo's Courtesy of Jim Collins
| | |
| --- | --- |
| | "Vietnam Sunset" Photo Courtesy of Jim Gosnell |
| | |
| --- | --- |
| Agent Orange Spraying | Aircraft Sprayer Setup |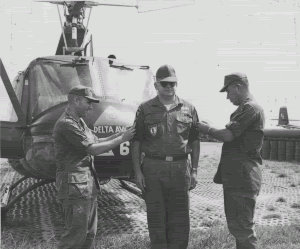 Promotion Ceremony, Delta Avn Bn - Can Tho
Left: ? Center: J.A.White Right: Br Gen. Hennession (KIA)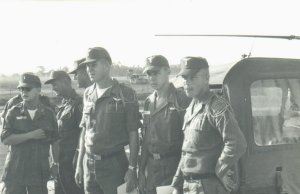 Officers March 1967
(left to right)
1. 2. 3. 4. 5. Lt. R.Theys 6.
Who are these guys? Send in the names...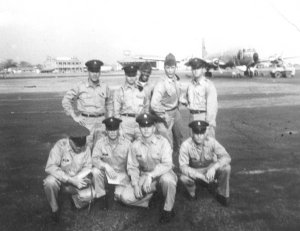 "Old Buddies"
Left to right standing: Ron Williams, Bill Stoltze,
Norman (Mitch the Trigger) Mitchell, Lane Ramsdell, Doug Hopkins
Kneeling: Roy Gueswel, Chuck Eddy, Bill Glasgow, Dan Jones
Photo provided by Bill Glasgow
Photo Maps
Provided by Frank Strobel
Vinh Long Airfield
Provided by Don Raczon
336th AHC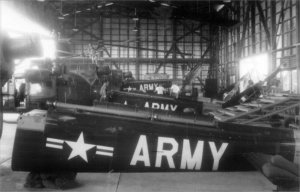 114th aircraft were grounded. The mounting pads
and bolts that hold the tail boom on had to be reinforced.
Vinh Long Hangar 1968
Provided by Rick Sciapiti
Photo's Courtesy of Roger Winslow
| | | |
| --- | --- | --- |
| Bob Hope heads for mess hall , Cpt. Chuck Shipman (hands on hips) Dec 1964 | Bob Hope USO troop, Ann Margaret, Cpt. Roger Winslow and others at Vinh Long mess hall Dec 1964 | Street of Flags, Vinh Long with Bob Hope's arrival Dec 1964 |
Photo's Courtesy of Randy Clapp
| | |
| --- | --- |
| Company Street In The Beginning | After Serious Renovation |
| | |
| --- | --- |
| Early Parking Ramp | After Serious Renovation |
| | |
| --- | --- |
| Vinh Long May 1963 | Vinh Long May 1963 |
| | |
| --- | --- |
| Vinh Long Runway 1963 | Runway Builders 1963 |
| | |
| --- | --- |
| Officers Tent 1963 | "Knights of the Air" Door Graphic |
| Page 1 | Page 2 | Page 3 | Page 4 | Page 5 | New Vietnam & Vinh Long Photos |
---
| Main | Cobra's | White Knights | Red Knights | Gold Knights | Blue Knights | Lancers |
New Life Operation
| Unit History | Assoc History | Assoc Members | Lost in Combat | Lost in Combat by Date |
| KIA Memorial | "Taps" | Alumni Directory | Membership Application | Quarter Master Shop |
| Pilots KIA Vietnam | Chopper Restoration | Sign our Guestbook! | Read our Guestbook! | VA Benefits |
| Veterans Links | Unit Photo Album | Unit History Book | Unit Aircraft | Show Your Colors |
| Aircrew KIA Vietnam | Website Awards | The Archive | Director's Forum | Auxiliary | Reunion Information |
| 114th Constitution & Bylaws | Our Vietnam Generation | AOD | Knight Letter | Home |

Created by Terry A. Dell, White Knight Crewchief 69-70' Republic of Vietnam
in association with members of the 114th Assault Helicopter Company
who served May 1963 to February 1972.

Send mail to Webmaster with questions or comments about this web site.
Copyright © 1997-2017 114th Aviation Company Association