114th Aviation Company
"Knights of the Air"
COBRA PHOTOGRAPH ALBUM
Please be patient while the photo's load!
It may take a minute or so depending on how fast your computer modem works!
---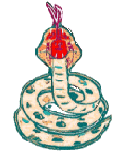 Cobra's
Photo Courtesy of Anthony Anzalone
Photo's Courtesy of John Brennan and Jim Collins

Early cobra crews had to contend with the white
paper pods shown here...


Metal pods shown here replaced the paper pods
in later years.
Photo's Courtesy of Bailey Jones
Don't Miss!! Bailey's Vietnam Photo Album!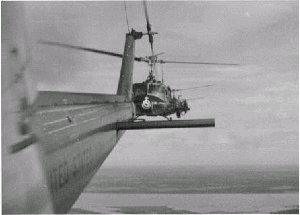 "Rotor Heads on the horizon, tail rotors in your
face, aircraft in trim...Close it up!"
| | |
| --- | --- |
| Jim Gosnell's Hungry II - Cobra IV | Hungry II Rocket System |
Photo's Courtesy of Jim Gosnell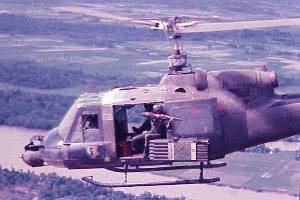 "Charlie Stilwell Hanging out of door"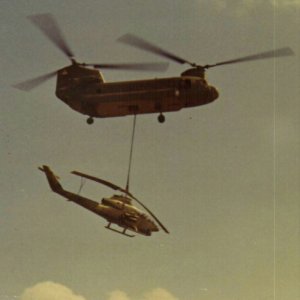 "Cobra Conserving Fuel"
| | |
| --- | --- |
| Cobra Pond | Cobra Rocket Bin |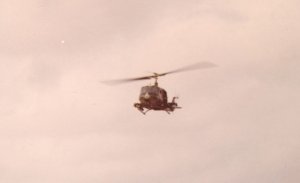 Inbound Cobra
| | |
| --- | --- |
| 40mm hole in "Eve of Destruction" | John Juhrs & Cobra VIII, "Liquidator" |
Photo's Courtesy of Parker Evans
| | |
| --- | --- |
| Parker Evans "1968" | Who Are These Guys? |
Left: Parker Evans
Below: Ammo Carried
Right: Parker 1967'


Photo's Courtesy of Allen "Lee" Jensen
| | |
| --- | --- |
| Cobra II "Sexy Snake" in Flight | Pilot: Grover Brooks "Kicking-Back" |
| | |
| --- | --- |
| Cobra II with "Flex Guns" | Cobra II with "Mini Guns" |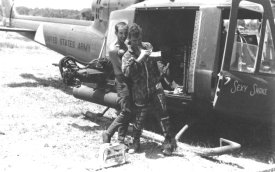 CE: Bradford Jennings Guns: Allen Jensen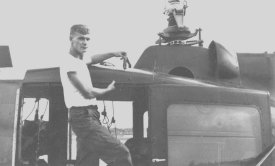 "Sexy Snake" AC: Larry Boles
| | |
| --- | --- |
| Allen Jensen Re-Arming Cobra II | Hey Guy's Wait-Up! I'm Coming... |

"Chuck Crusher II"
UH-1C Huey Hog - 3rd Platoon


Snake's On Stand By
Photo's Courtesy of Bill Glasgow
| | |
| --- | --- |
| AH-1G #67-15844 Cobra (32) | Cobra (32) with nose paint |
Photo's Courtesy of Rick Sciapiti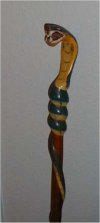 Rick Sciapiti 69'
Cobra "Short Timer" Stick
Photo's Courtesy of Roger Winslow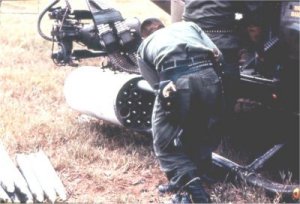 Cobra CE Loading Heavy Pod. 1964


| Page 1 | Page 2 | Page 3 | Page 4 | Page 5 |
---
| Main | Cobra's | White Knights | Red Knights | Gold Knights | Blue Knights | Lancers |
New Life Operation
| Unit History | Assoc History | Assoc Members | Lost in Combat | Lost in Combat by Date |
| KIA Memorial | "Taps" | Alumni Directory | Membership Application | Quarter Master Shop |
| Pilots KIA Vietnam | Chopper Restoration | Sign our Guestbook! | Read our Guestbook! | VA Benefits |
| Veterans Links | Unit Photo Album | Unit History Book | Unit Aircraft | Show Your Colors |
| Aircrew KIA Vietnam | Website Awards | The Archive | Director's Forum | Auxiliary | Reunion Information |
| 114th Constitution & Bylaws | Our Vietnam Generation | AOD | Knight Letter | Home |

Created by Terry A. Dell, White Knight Crewchief 69-70' Republic of Vietnam
in association with members of the 114th Assault Helicopter Company
who served May 1963 to February 1972.

Send mail to Webmaster with questions or comments about this web site.
Copyright © 1997-2017 114th Aviation Company Association