Geographically, a united Vietnam has been compared to two rice baskets hanging on a carrying pole - a familiar sight in many Asian marketplaces. The rice baskets are comprised of the deltas of the Red River in the North and Mekong in the South. Two of the richest alluvial plains in the world, they are connected by the Annamite mountain chain linking both ends of Vietnam.

By comparison, however, the Mekong Delta in the South far surpasses the northern delta in size. The Red River Delta covers a wrinkly expanse of 5,800 square miles compared to 14,000 square miles in the southern counterpart.

North Vietnam looks hungrily at the same documented facts.

Story and Photos by
SP5 Chas Boots
and SP4 Brian S. Shortell
HAWK Magazine 4/1970
Knight Aviators contend with stress of nocturnal flights.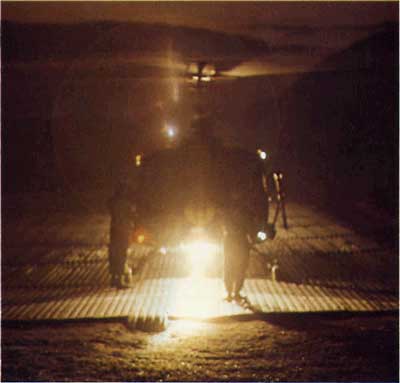 For the North Vietnamese are now one of the poorest people in Southeast Asia. To a large extent, it is due to this national impoverishment coupled with the strong urging of mainland China that North Vietnam has risked the costly attempt to conquer the South. (continued here)