A TIME FOR REMEMBERING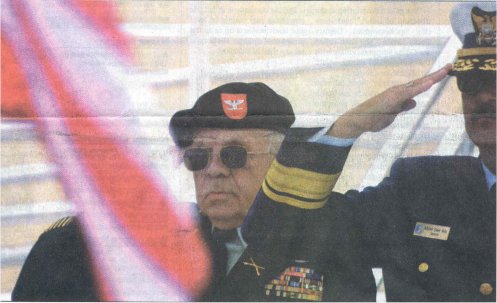 Colonel Floyd J. Thompson left, flanked by Rear Adm. David Beiz,
salute the US flag during a ceremony honoring prisoners of war
and soldiers missing in action.

Former POW Helps Keep Memories Alive

There were flags and uniforms of every color, two enormous glistening white cakes, patriotic songs and an applauding crowd. But all the military pomp and circumstance at the POW/MIA recognition ceremony Friday at Truman Annex could not dull the sharp pain of nine years of solitary confinement Col. Floyd Thompson suffered in a Vietnamese prison camp.

Like a true soldier, Thompson rose to the occasion, standing proudly in his green fitted uniform replete with medals and ribbons. He handed over to the color guard a crisp black and white flag honoring prisoners of war and soldiers missing in action, saluted sharply and acknowledged the applause of nearly 200 people
gathered under bright blue and white striped tents in front of the Joint Interagency Task Force building. But after the ceremony, seated at a table in the shade, Thompson's clear blue eyes shone damp with tears.

"How did this ceremony make me feel? Emotional, very emotional," said Thompson, whose Air Force observation plane was shot down in South Vietnam in the spring of 1963.

Thompson suffered burns, a broken back, and bullet wound across the cheek in the crash. He was quickly captured by the Viet Cong spent the next nine years as their prisoner, enduring torture, starvation and isolation. He is the longest held
American POW from Vietnam war.

"I escaped six times and I was recaptured six times and beaten unmercifully," Thompson said. I never gave up hope I would come home again."

When Thompson finally did come home again in 1973, it was not to parades and cheers, but rather to a cynical public jaded by a war that had ripped the nation's soul apart. Friday's ceremony sought in a small way to recognize not only Thompson but all soldiers who were prisoners of war or missing in action.


Hosted by Maj. Fred Scali of the U.S. Marine Corps, the ceremony featured representatives from various military branches including Capt. Larry Cotton of the
Naval Air Facility Key West and Capt. Joseph Nimmich of the U.S. Coast Guard Group Key West.

"Col. Floyd Thompson is the very embodiment of what our nation has sought to honor," said U.S. Coast Guard Rear Adm. David Belz as he introduced Thompson to the crowd. "He is a national treasure."

Shadow boxes with a black and white photo of a jubilant Thompson coming home were presented to each branch. At the close of the ceremony, the crowd stood at attention as a black and white flag with the silhouette of a soldier against the background of a war camp was hoisted in the wind.


This dated photo of Col. Thompson just after his release, Is contained In the POW/MIA Shadow Boxes.
As he sat looking at the flag, Thompson said there still may be American soldiers being held in other parts of the world. "I still wonder and think," he said. "I care for them and I don't want them forgotten."
Article submitted by Jim Gosnell