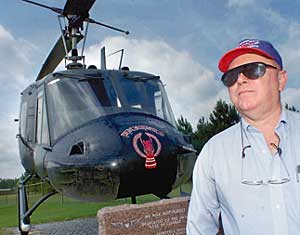 Danny Gilleland/The Macon Telegraph

Tom Nesbitt, a former helicopter pilot and Vietnam veteran, feels he shares a special bond with soldiers remembered in Georgia Veterans Memorial Park near Lake Blackshear.


THE BOND OF BROTHERHOOD

Memorial erected to helicopter unit's fallen

Cordele monument records names of 70 who died in Vietnam

By Drew Brown
The Macon Telegraph

CORDELE - Tom Nesbitt stands beside a restored Huey helicopter in Georgia Veterans Memorial Park near Lake Blackshear. A simple red granite memorial next to the menacing machine of war records the names of 70 men who died in Vietnam between 1967 and 1972.


AT A GLANCE
Saturday's memorial dedication begins at 11 a.m. at Georgia Veterans Memorial Park. Take Interstate 75 to U.S. 280. The park is about seven miles west. The program includes a helicopter flyover and ground displays. For more information, contact the park at 912-276-2371.


"To be honest with you, I didn't know a single one of these guys," said Nesbitt, a 58-year-old former helicopter pilot and Vietnam veteran. "I was only in the unit for two-and-a-half months. But I feel like I knew each one of them personally, and this was something that needed to be done. It's a brotherhood thing. It's kind of difficult to explain unless you were there."
Nesbitt and other veterans of the 114th Assault Helicopter Company will gather here from around the country Saturday to dedicate the memorial and pay tribute to their fallen comrades. The memorial reads: "We Will Not Forget Our Lost in Combat."
"They were just boys - 18, 19 years old," said Nesbitt, who also flew with the unit and another in the Mekong Delta in 1970 and 1971. "I felt like we just owe it to them to remember them. These guys would have grown up to be just like us. Some of them might have become executives, doctors, businessmen - but now they're gone."
Nesbitt's quest to build the memorial began two summers ago, when he discovered that the helicopter, which had been at the park since 1991, had been assigned to the 114th from 1967 to 1968. Nesbitt decided to restore the battered war bird.
A quiet man who shuns crowds and still bears his share of bitterness and pain over the war, Nesbitt worked all summer to return the chopper to its battlefield glory.
He found peace in the work.
"I felt at home out here," he says. "At the risk of sounding crazy, I would actually be out here talking to these guys while I was working on it. It got kind of personal and brought back a lot of memories, but I felt like I owed them something. Maybe this paid something back."
Once the restoration was complete, a memorial seemed a natural step. At a reunion in San Antonio last year, 114th veterans decided to raise the money to build one.
More than 4,900 helicopter pilots and crewmen died in Vietnam. Nesbitt estimates the number of wounded was at least 10 times higher.
"Most of them were hit by ground fire or they probably crashed and burned," says Nesbitt. "It was pretty rare not to get wounded in a helicopter company."
One of those expected Saturday, he adds, lost 16 men under his command. Their names are listed on the memorial.
Nesbitt calls the men whose names are inscribed on the memorial, "just average Americans who had a sense of patriotism and duty."
He remains bitter. He and other soldiers were not allowed to fight to win. Vietnam, he says, was fought "to make the rich richer."
He searches for meaning in the deaths.
"I wouldn't say that they died without a purpose," he says. "But I won't say that they died for their country, either. They died for each other."
And now, three decades later, Nesbitt does what he can to make sure that those deaths do not go unremembered.
"I don't feel like it's enough," he says. "But it's all I could do."