114th Aviation Company
"Knights of the Air"
REUNION 2005
Sheraton Tacoma
Tacoma, WA

1320 Broadway Plaza
Tacoma, WA 98402

(800) 325-3535 USA
(253) 572-3200
| | |
| --- | --- |
| Guestroom Double-Double | Guestroom Double-Double Guests staying at the beautiful Sheraton Tacoma Hotel bask in the glow of richly appointed guest accommodations that feature sweeping views of the city or mountainside. Luxurious beds, plush furniture, window treatments and wall coverings done in warm tones of glorious gold with accents of rich red envelop guests in exceptional comfort in all of this downtown hotel's 319 guestrooms and suites. |

In addition to the attention to details for which the Sheraton Tacoma Hotel is known, amenities found in the guestrooms include:
Wireless broadband Internet access in all our guestrooms
Two-line phones with 15-foot cords
Private voicemail
Amenities of home such as coffee maker, full size iron and ironing board, hairdryer
Fully stocked honor bar
Club Level guests are offered exclusive amenities such as a private lounge, nightly turn-down service, terrycloth bathrobes, complimentary continental breakfast
We are a pet-friendly hotel
The Sheraton Tacoma Hotel also offers elegant yet functional one and two-bedroom suites for business entertainment or personal relaxation. Enjoy the panoramic view of the beautiful Puget Sound and the majestic Mount Rainier.

The Presidential and Governor's Suites feature a dining area combined with a living room for entertaining and a separate bedroom with a king-size bed. The luxurious bath is complete with a marble Jacuzzi for relaxing at the end of a busy day.

The hotel's King Suites offer a parlor area separate from the bedroom and can be connected to a second bedroom to accommodate the entire family. There are two full bathrooms in our King Suites.
Travel to the Puget Sound and stay at the Sheraton Tacoma with a view of Mount Rainier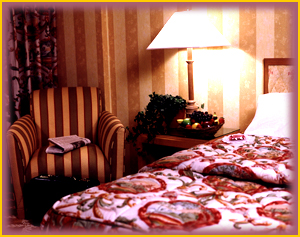 The downtown Sheraton Tacoma Hotel is pleased to offer several other packages for special occasions. All feature Champagne or sparkling cider upon arrival, continental breakfast for two at the hotel's Broadway Grill, late check-out of 2 p.m., free parking at the hotel and evening turn-down service.

To make reservations, please call us directly at 253-591-4142
High King Room - $159
Deluxe accommodations with a stunning view of Mount Rainier or Commencement Bay
Deluxe King Mini Suite - $179
Spacious corner room with a king size bed and partial views
King Suite - $229
Full suite with a large bedroom area; separate living room parlor and panoramic mountain and bay views
Presidential or Governor's Suite - $329
Located on a private level of the hotel; breathtaking view of Mt. Rainier from the master bedroom. Elegantly furnished parlor and dining area overlook Commencement Bay. Master bath features a Jacuzzi. The ultimate indulgence…
All rates are subject to change without notice and are based on availability. All rates are subject to Washington state sales tax and city room tax.

Services & Amenities at the Downtown
Sheraton Tacoma Hotel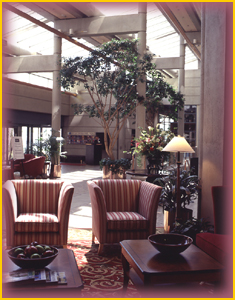 An ideal location for visitors to the Pacific Northwest, the Sheraton Tacoma Hotel offers an excellent place from which to explore and discover Commencement Bay, Mount Rainier and the entire Puget Sound.

The hotel itself reflects its exquisite surroundings, beginning with its expansive three-level lobby. Under vaulted ceilings and skylights, it showcases a variety of unique works of art,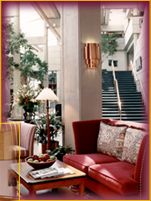 including original glass works by world-renowned local artist Dale Chihully and warm, plush furnishings in rich red and gold tones. Combining elegance, pure comfort and exemplary service, the Sheraton Tacoma Hotel makes for the perfect getaway.
Services and amenities the Sheraton Tacoma Hotel provides for its guests include:
We offer complimentary USA Today delivered to your door
State-of-the-art automated business center providing fax machine, copier, access to internet, and Microsoft office applications.
Concierge services to assist you during your stay
Room service for breakfast, lunch and dinner
Complimentary 24-hour on-site fitness facility with Star-Trac cardio equipment and Paramount fitness station
Extensive YMCA fitness facility across the street includes swimming pool, gym and racquetball courts; available to guests for $5 per day
Same-day laundry and dry-cleaning service
Gift shop
Child care service referrals available
On-site dining options: the Broadway Grill serves a selection of Northwest cuisine daily, Altezzo , with its breathtaking panoramic views from the top of the hotel, features authentic Italian cuisine; the Music Room, with lighter fare, offers guests fresh baked goods and a favorite beverage; and Room Service is also available for breakfast, lunch & dinner
We are a pet-friendly hotel
Self parking $12.00 per day, valet parking $15.00 per day

Downtown Sheraton Tacoma Hotel
Dining At It's BEST!

ALTEZZO RISTORANTE - Atop the Sheraton Tacoma
Transport yourself to Italy with the flavors of Altezzo Ristorante





While the panoramic views of Commencement Bay and Mt. Rainier from the top of the Sheraton Tacoma Hotel will confirm you're in the Pacific Northwest, the mouthwatering flavors of Altezzo Ristorante's authentic Italian cuisine will whisk you away to Italy. "The best Italian-inspired cuisine in the South Puget Sound
***** - Tacoma News Tribune

MENU:
Authentic regional Italian food. The menu changes daily and features homemade breads and pasta, local seafood and fresh local produce.

SERVICE:
Dinner and cocktails served daily
Pre-theater and dinner entertainment

SEATING:
Altezzo Ristorante seats up to 114 guests in the dining room and 18 guests in the lounge. Private dining is available for up to 40 guests.

Vertigo Lounge


Claim Your Place Above the Rest – Perched high above the city, with breath-taking views of Commencement Bay and Mt. Rainier, a chic and extraordinary scene awaits you atop the Sheraton Tacoma Hotel.

Designed with the business customer in mind, the new Vertigo Lounge offers a perfect blend of upscale charm and relaxation. The uniquely private and moveable furnishings will inspire your creativity and easily accommodate any intimate or professional gathering. Add the signature cocktails, a tempting menu and complimentary valet services, and you'll find yourself in an entirely new dimension---the dimension of Vertigo.

BROADWAY GRILL

A great downtown treasure… convenient, innovative and inviting.... Broadway Grill
located on the 4th floor.
With the atmosphere and comfortable surroundings found in a classic grill, the Broadway Grill is the perfect destination for business meals, meetings, and family dining.
"The Broadway Grill provides quality American Northwest food…friendly, attentive service…and a notable value." - Tacoma News Tribune
MENU:
A classic American grill featuring the cuisine of the Pacific Northwest. Dishes combine straightforward recipes with creative presentation.
SERVICE:
Breakfast and lunch served daily
SEATING:
The Broadway Grill seats up to 140 guests and can provide semi-private dining for up to 40 guests.
Directions to the Sheraton Tacoma Hotel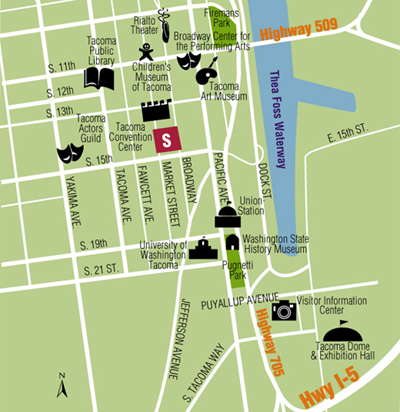 The 26-floor, AAA Three Diamond Sheraton Tacoma Hotel is centrally located in downtown Tacoma, just 16 miles from the Seattle/Tacoma International Airport. Major destinations such as Puget Sound, Point Defiance Zoo and Aquarium, the Tacoma Dome, the Washington State History Museum and the Port of Tacoma are nearby and easily accessible. Only an hour's drive from the breathtaking Mount Rainier, the hotel is a quick 32 miles from downtown Seattle.
From northbound or southbound Interstate 5:
From I-5, take exit #133 onto highway 705.
Stay in center lane and follow City Center signs until you come to the 15th Ave/Pacific Ave exit.
Go Straight up hill 2 blocks to Broadway.
Turn right on Broadway.
The Sheraton Tacoma Hotel is on the left side.
Self parking $12.00 per day, valet parking $15.00 per day.

| Reunion Committee Report | Welcome | Accommodations |
| Travel | Registration | Itinerary | Area Sites |