114th Aviation Company
"Knights of the Air"
REUNION 2009


Best Western The Academy Hotel
8110 N Academy Boulevard,
Colorado Springs, Colorado, 80920-3904
United States

Phone: 719/598-5770
Fax: 719/598-3434
Toll Free: 1-800-766-8524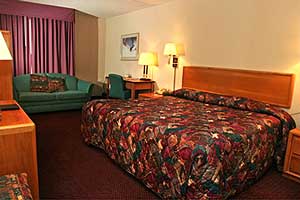 Business Class King Guest Bedroom

Suites include everything you'll find
in our guest room plus: Wet bars, Jacuzzi bath, Adjustable sleep bed, Spacious living area
Feel at home. Only better.
Our 200 spacious guest rooms are
beautifully appointed with comfortable
furnishings, restful colors and
convenient amenities while our suites
offer wet bars, Jacuzzi baths and
double showers.
Guest Room Amenities:

| | |
| --- | --- |
| | Cable satellite television with HBO and pay-per-view |

| | |
| --- | --- |
| | In-room movies |

| | |
| --- | --- |
| | AM/FM alarm clock |

| | |
| --- | --- |
| | Coffee/tea maker |

| | |
| --- | --- |
| | Microwave available |

| | |
| --- | --- |
| | Refrigerator |

| | |
| --- | --- |
| | Hairdryer |


King Guest Bedroom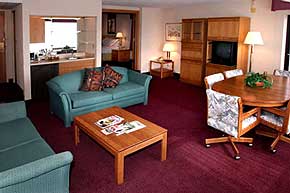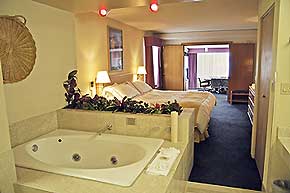 To make reservations, please call us directly at 800-766-8524
All rates are subject to change without notice and are based on availability. All rates are subject to Colorado state sales tax and city room tax. You may also visit the Hotels website at: www.TheAcademyHotel.com
Restaurants:
| | |
| --- | --- |
| | Garden Terrace, on premises, International, 6:30 a.m. to 10:00 p.m. |
| | |
| --- | --- |
| | Across the street from Denny's, American, 24 hours |
| | |
| --- | --- |
| | Across the street from Cracker Barrel, American, 6:00 a.m. to 10:00 p.m. |
| | |
| --- | --- |
| | Across the street from McDonald's, fast food, 24 hours |
| | |
| --- | --- |
| | Across the street from Wendy's, fast food, 10:00 a.m. to 1:00 a.m. |
| | |
| --- | --- |
| | Across the street from IHOP, American, 24 hours |
| | |
| --- | --- |
| | Across the street from Village Inn, American, 24 hours |
Area Information:
| | |
| --- | --- |
| | 5 mile(s) from Pro Rodeo Hall of Fame |
| | |
| --- | --- |
| | 6 mile(s) from Mr Biggs Family Fun Center, indoor amusement park |
| | |
| --- | --- |
| | 9 mile(s) from Pioneers Museum, historic Colorado exhibits |
| | |
| --- | --- |
| | 9 mile(s) from Pike's Peak Center, theater productions, events |
| | |
| --- | --- |
| | 9 mile(s) from Fine Arts Center, exhibits and events |
| | |
| --- | --- |
| | 12 mile(s) from Flying W Ranch, guest ranch, chuckwagon dinner, cowboy singers |
| | |
| --- | --- |
| | 13 mile(s) from World Arena, event center, concerts, sports events |
| | |
| --- | --- |
| Garden Terrace Restaurant Site | Atrium Dance Floor |
| Banquet Facility | Meeting Room |
| | |
Best Western The Academy Hotel
8110 N Academy Boulevard,
Colorado Springs, Colorado, 80920-3904
United States

Phone: 719/598-5770
Fax: 719/598-3434
Toll Free: 1-800-766-8524

| Welcome | Accommodations | Travel | Registration |
| Itinerary | Area Sites | Attendees | Reunion Recap |