Reunion Headquarters: Days Inn
Columbia, Missouri
May 24 – 30, 2001

The 114th Aviation Company Association has been invited to be honored at the Salute to Veterans Corporation 13th Annual Memorial Day Weekend Celebration. The Corporation is a unique private, not-for-profit, tax-deductible Missouri corporation of over 3,000 unpaid volunteers and 50 committee chairmen who produce the annual event to Honor and Remember the veterans who served their country, the active duty members of our Armed Forces and those in the National Guard and Reserve. This year the Celebration is dedicated to Vietnam Veterans.

THE MEMORIAL DAY SALUTE TO VETERANS
WEEKEND EVENTS

Living History Program: Wednesday, Thursday, and Friday. This organized program is an opportunity for the members of the 114th Aviation Company Association to visit area classrooms to give talks about their personal military experiences. If you would like to participate, indicate on the Registration Form with a brief statement on what you would speak about. Also, indicate when you would be available.

Salute to Veterans Airshow: 10 AM to 4 PM, Saturday and Sunday. Location is Columbia Regional Airport. There will be static displays, flight demonstrations including the Golden Knights, and entertainment. An air-conditioned room that has a view of the activities will be available for our group.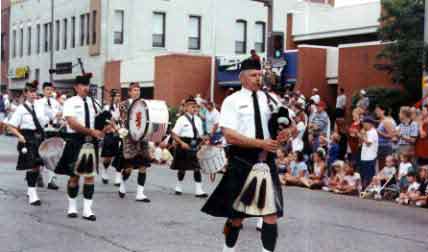 Both days, during the mid-hour, Bagpipers escort Honored Guests and Reunion groups to Show Central. Followed by the National Anthem, a Ceremony, 21 Field Artillery Gun Salute to the Nation.

The Honored Guests and Volunteers Banquet and the Salute to Veterans Show: 5:50 PM, Saturday. At the University of Missouri Hearnes Center. Food is prepared by one of Columbia's top gourmet restaurants and served at several buffet tables. Events include the introductions of weekend celebration participants (including our Reunion Group), an auction of military art and other special items of military historical significance, and a USO style show. Dress is semi-formal ( dress uniform is encouraged ). Our Reunion Group will be seated together.

Cost is $30 per person. You may use the Reservation Form for this Banquet found on this site. Just Print & Mail it along with your remittance.

Salute to Veterans Parade and Military Ceremony: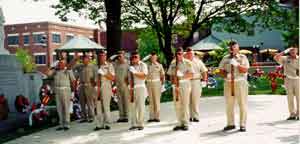 Monday morning, we will be bused to downtown Columbia to board our own float or decorated tram and ride in the 10:00 a.m. Salute to Veterans Parade.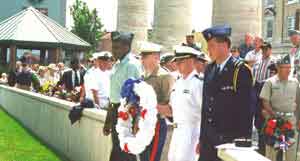 Immediately following the Parade, gather at the Veterans Memorials at our downtown Boone County Courthouse for a solemn and moving military ceremony — with wreath- laying, 21-gun salute, taps.

Festivities conclude about 11:30 a.m. on Memorial Day.
Parade Shirts - Your registration will include one short sleeved, white pilots shirt with shoulder tabs and the Association shield embroidered above the left pocket. The tabs can be used to attach platoon/detachment pins. Additional shirts, both short and long sleeve may be ordered with your registration. So the ladies are not left out, a ladies polo style white shirt is available to order with the Association shield embroidered on it.